The project I'm featuring this month is a couple of year old, but until recently I've been prevented from using it on my website. The aim of the project was to replace a manual process with automation.

The operator would load a 3000 x 40 x 10mm bar from a stack, position the bar in a punch and trigger the punch with a foot switch. Once the first set of holes had been punched, the bar was repositioned and 4 subsequent sets of holes were punched. This was a problem because it was difficult for the operator to handle a 10kg steel bar and position the bar to punch the holes in the correct location.

The next operator would take the punched bars, and weld the studs in place using a hand operated welding gun. As the welding gun is a heavy tool, positional and angular accuracy was an issue.

Finally, the bars would be positioned back to back and bolted together. Turning a 3m steel bar through 180 degrees is not an easy handling exercise (I know because I've done it a few time myself).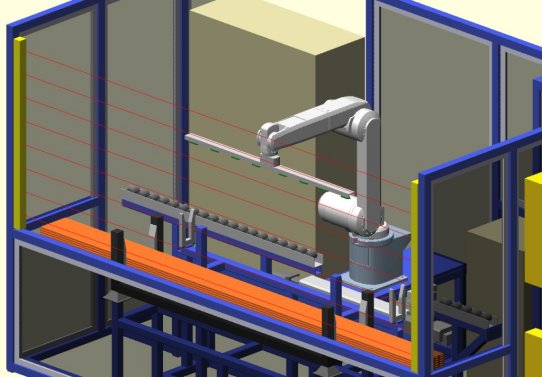 click here to watch the simulation
The automated solution to the problem is to use a robot (RV-12SL) to unload the steel bars from a pack and place the bar on the feed mechanism. Once the bar has been placed, a gripper mounted on a linear axis closes and the bar feeds forward to an optical sensor which detects the leading edge. The bar is indexed into the punch and the punch cycles. On completion of the punch cycle, the bar is indexed to the next position and the process is repeated.
The bars feed from the punch into two welding stations where the studs are picked from the feeders (bowl & linear) and welded onto the bars as they index through the machine. After welding, the studs pass through two bending stations where they are bent at a 15 degree angle.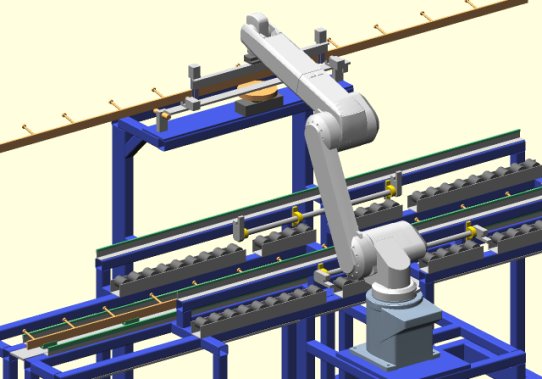 click here to watch the simulation
The output of the "weld cell" is presented to another RV-12SL which picks and places the bars (in pairs) on the exit conveyor. Finally, the finished product feeds out to the operator for bolting together and offload.
To watch the simulations click on the links above. The automated solution has been installed and commissioned so click here to watch the movie. I've switched to using the Xvid codec as it give better quality image with a higher compression ratio than the Micro$oft codec I was using. If you have difficulties playing the movies please download the codec from the Xvid website.